In today's blog post we are going to talk about some factors you need to consider when altering a collared shirt. Shirts are one of Colony Clothing's most favourite items and we have got an assortment of beautiful shirts in different fabrics, colours and cuts!
There are many reasons why one would like to alter their shirt. Some would wish to enhance the cut after purchasing a ready to wear shirt and also to upcycle the shirt , eg, when he/she fluctuates in weight, changing the silhouette of a shirt from relaxed to slim , changing the sleeves form a full to half or even creating a sleeveless shirt! The possibilities are endless when it comes to altering your shirts and here at Colony Clothing, Henry ( our tailor) is dedicated to provide you with the best workmanship and advise!
---
---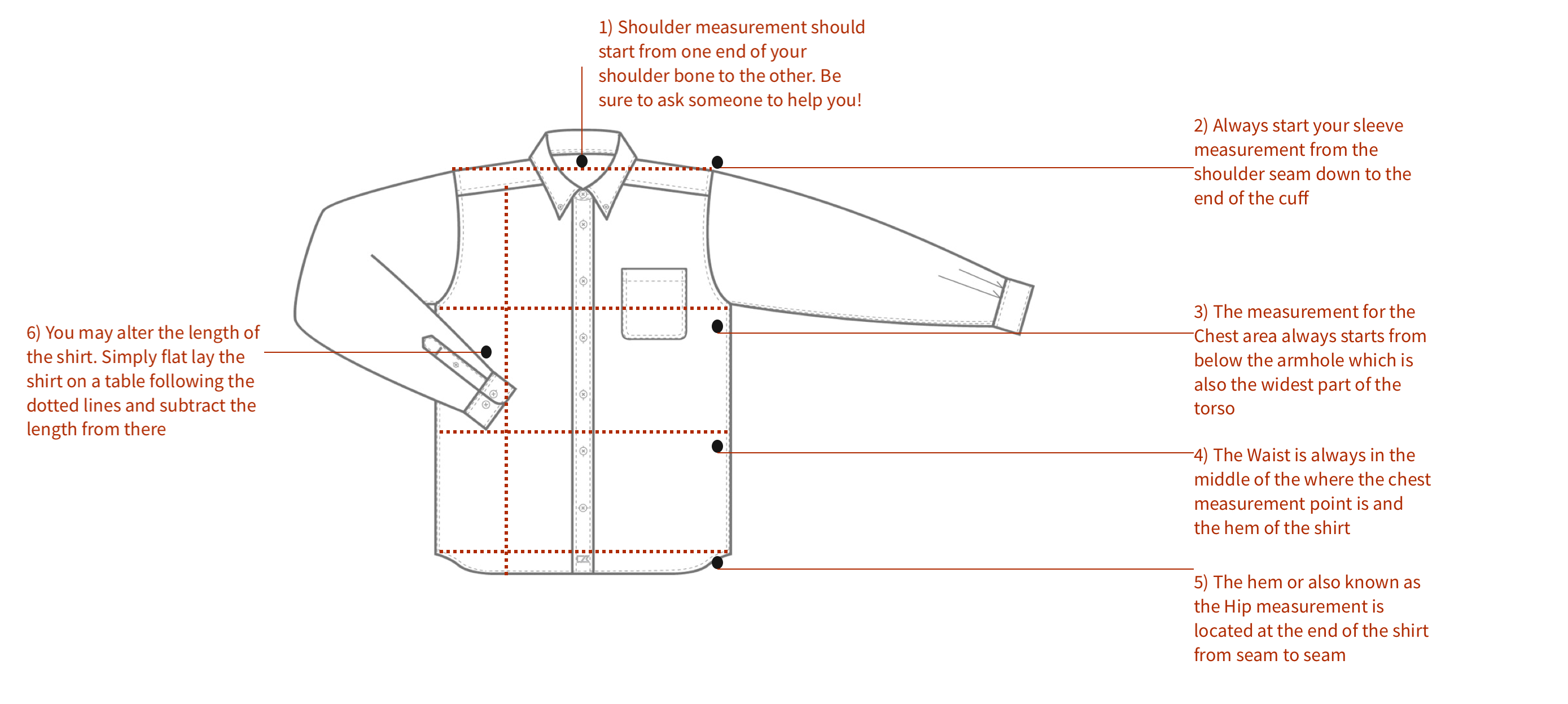 ---
The shoulder measurement is the most important when it comes to a shirt. You wouldn't want the shoulder to droop and have your shirt looking like it was borrowed! There are however some styles in which the shoulder sits a little bit lower as they are oversized relaxed shirts but today we are going to talk about the standard correct look when it comes to measuring your shoulders and sending it for alteration.
Note that... when altering a shirt shoulder seam to achieving a clean drop , it is always important to measure your shoulders from your left shoulder bone to the right. You may need someone to assist you with this!
With the right shoulder seam placement , your will look spiffy for sure!
---
Sleeves are the most common alteration needed! As most of the shirts you purchase derived from standard European or American cuts, you might find that the sleeves are either too long or short for you!
The proper guideline to alter a full sleeve shirt is for the end of the cuff to sit on the thumb bone as per the photo below. This will give you the freedom to wear it with a jacket, showing at least 1/2 inches to 3/4 inches or the cuff. Alternatively, if you would like to alter your full sleeves to half sleeve , you may too! just remember to measure from the shoulder seam!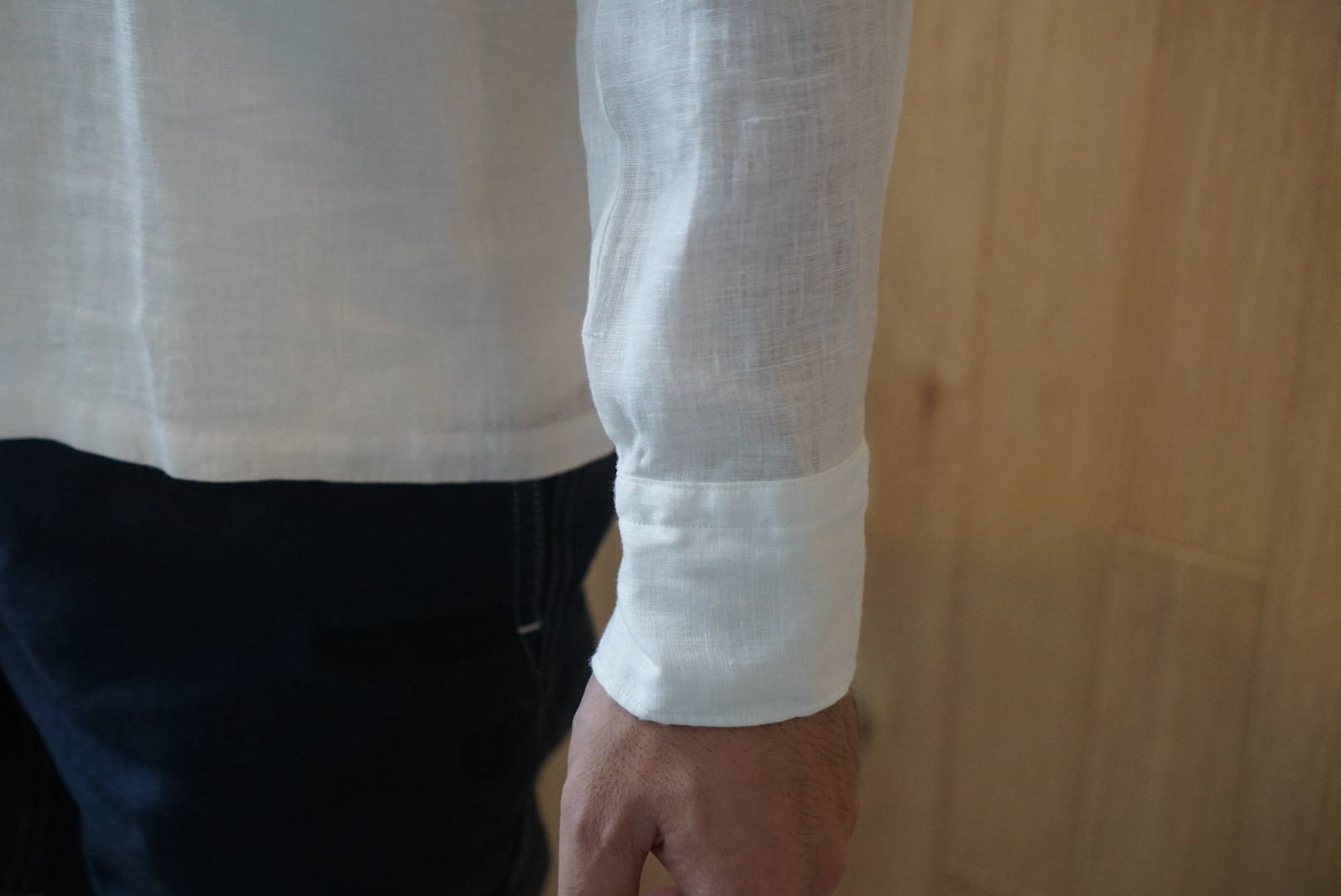 Fluctuate in weight a lot? In the process of building up those chest muscles? Not to worry! When measuring your chest for alteration, always note to flat lay your shirt on a surface and take it from there. The most common alteration is to make the chest smaller at most times.
Should you wish to alter the chest slightly bigger, for most shirts, only a maximum of 1/2 is allowed ! So remember, it is always safer to get a cut that is slightly wider for you so you may get it altered narrower to fit you better!
---
The waist works just like the chest as well. The guide to find the waist is always to fold the torso of the shirt to where the chest is and mark the middle. Also, for slim shirts, the smallest part of the torso (where the curve usually is) shall be where the measuring point for where the waist is. Remember, it is always best to get a cut which is s slightly bigger for you so altering it wouldn't be a problem as for most ready to wear shirts, there is only a maximum of 1/2 inch on each side to extend, if not none.
Another alternative should you wish to enhanced the silhouette of the waistline to make it slimmer is always to add some darting at the back as per photo below.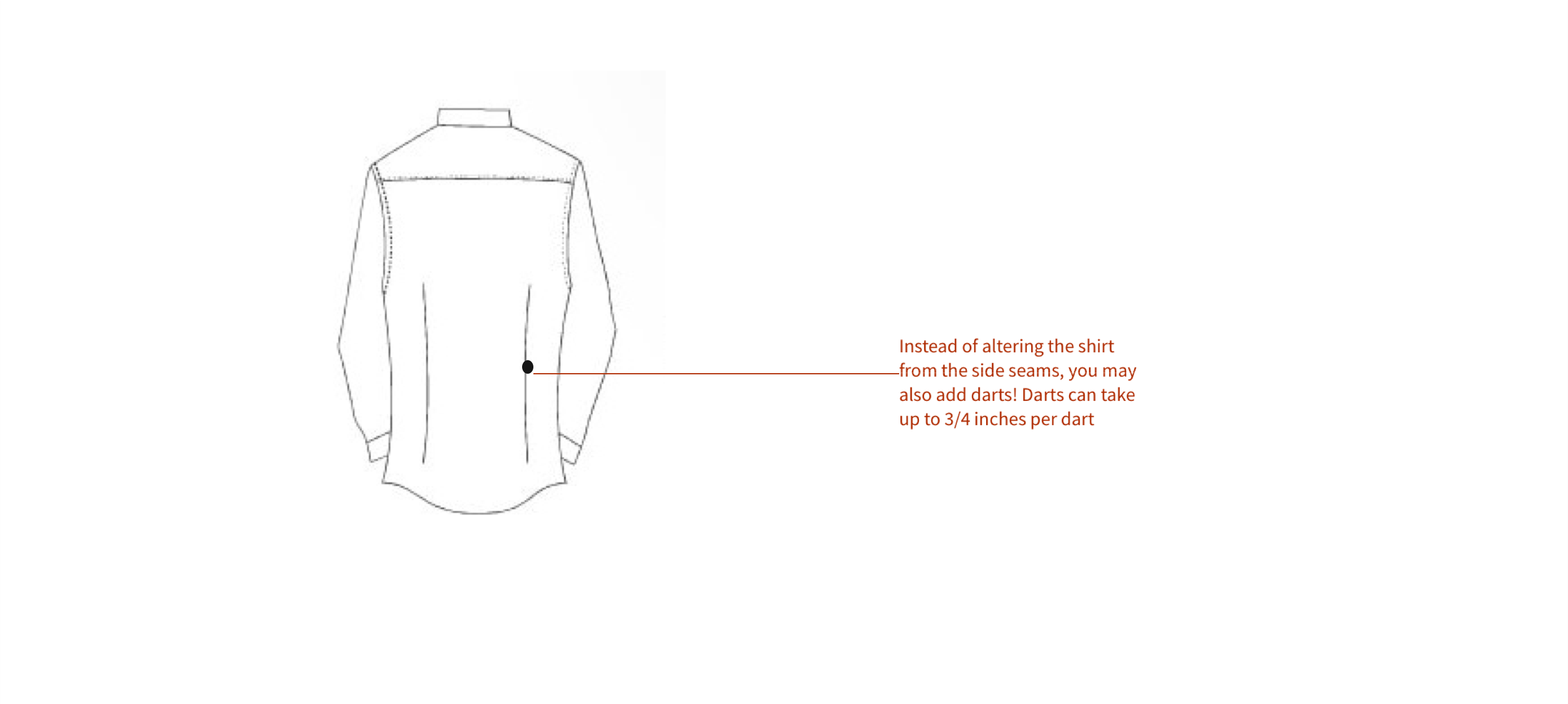 ---
The Hem measurement is also widely known as the hip measurement when it comes to a shirt. You may find that there are different types of shirt hemming such as the straight hem, the cuffed hem, the gusset hemming and much more. Each represents different looks you might wish to achieve, such as a casual, business and also a versatile shirt to be worn for both.
For Casual Shirts...Usually a curved hem. This will ensure a more casual drop when wearing with shorts or chinos. It is always best to measure your hip together with your desired bottom to find the perfect fit for the hem. You wouldn't want an A-line shirt!
For Business Shirts...Usually a straight hem and slightly longer. It is also vital to measure the perfect hem measurement with your bottom on. You wouldn't want an excess fold of fabric when tucking in as this may look unkept and messy.
---
Shirt length is really important in ensuring that your shirts sits well and produces your desired silhouette.
For Casual Shirts...Be sure to alter your shirts to a curved hem and also, for the end of the curve to be about half way through your hips, usually about 1/2 inches below the back pocket (if there is any).
For Business Shirts... it is ok for the shirt to be slightly longer but ensure that it is not too long that it creates ripples when wearing your pants. Also, some prefer for it to between so the shirt could be worn tucked in or out!
---
There you have it! a detailed composition of the basics of measuring your shirt to be sent to alteration! Should you need any advise, be sure to arrange a Zoom Video consultation during the circuit breaker by emailing us here!
Below is the pricing for our alteration services and note that during this period , transportation fees for collecting and sending your altered garments will be paid by you. Once again, we hope for the safety of your family and yourself in this difficult times! Should you have any enquiries about any of our services and our products, feel free to chat with us on the icon on the bottom right of this page and a member of our team will assist you!
Till the next blog post!
---